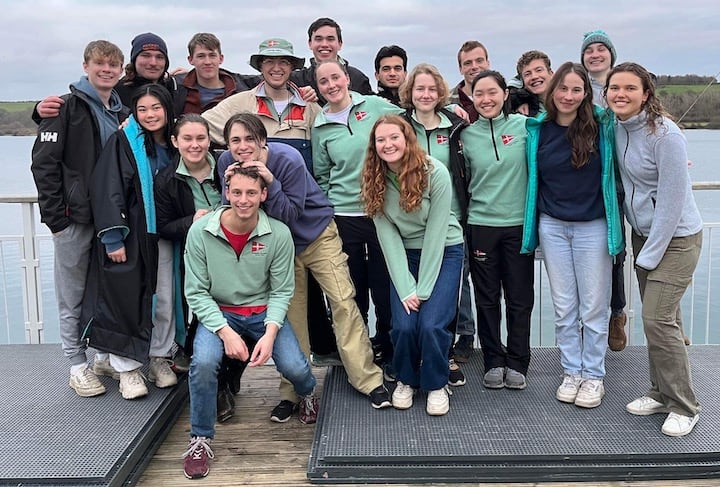 With time on the Saturday to complete a full round robin, the BUCS/BUSA Midland Qualifiers saw strong results for all 3 Cambridge teams, with Cambridge Blue unbeaten and Cambridge Red beaten only by Blue, to finish first and second out of 14 teams. Cambridge Yellow finished eighth with 7/13 race wins, just one win off fifth but still qualifying for BUSA play-offs.
Cambridge Blue started shakily, temporarily languishing in a 3,5,6 and relying on superior boat handling and knowledge of the rules to overcome an inexperienced Birmingham team on the final beat. A 1,2,5 against Cambridge Yellow calmed the nerves, but more inconsistent sailing was on display against Warwick, as Adam Rathmell & Charlotte McConnell gave away a simple 1,2 on the final beat, and were forced to play backwards to secure a narrow 1,4,5 win against average opposition. Races against both Nottingham and both Loughborough teams were won, but rarely with all of the team starting well or reaching Mark 1 in good positions. By far the best performance of the weekend came when it needed to against Cambridge Red. Starting in an advantageous but very close position, Blue quickly had 3 pairs won, and were able to balance them at Mark 1 to give the team a 1,2,3 around the course, which was only broken down after some impressive upwind speed saw Robbie McDonald & Lucius Bligh overtake Olly Perkins & Mattis Prince on the final beat to give Blue a 1,2,4 win. Better performances followed, as Blue defeated eventual third-placing UEA in a 1,2,5, as well Birmingham in a 1,2,3.
Cambridge Red started the day better than Blue, with excellent starting and upwind speed laying the groundwork for dominant wins against both Loughborough and both Birmingham teams, as well as Aberystwyth. Nottingham firsts posed a sterner test, and perhaps that was in the mind of Gordon Cogan Sivarajan & Lisanne Blok, as a comfortable 1,2 was nearly squandered on the final beat after some stressed tacks. They recovered to keep second, before a double-header against both Cambridge teams. These were closer races. After the unfortunate 3,5,6 loss to Blue, Red could not afford to lose to Yellow, and were kept honest – but eventually triumphed in a 2,3,4 combination. After this hiccup, the rest of the day saw Red display their strengths to beat both Warwick teams, UEA and Nottingham seconds comfortably.
A challenging first race against Blue saw Cambridge Yellow defeated, but the team recovered well to win 1,2,3 against Birmingham seconds. For many this was their first team racing event, but Yellow showed they could win close races with 1,4,5 victories against Birmingham and Warwick firsts, as well as win by sailing fast in 1,2,6 and 1,2,3 wins against Loughborough and Nottingham seconds respectively. Fiendish scheduling then saw Yellow pitched against the top 6 teams at the event (excluding Blue). First up was Cambridge Red, who seemed to have the race under control until Charlotte Rudd & Jenny Jiang cruised through a yawning lacuna left by Red at Mark 1 to take first place, and put Yellow in a winning 1,4,5. Some sharp team racing by Red, however, saw Yellow converted back into a 1,5,6 and Mark 3, and though Charlotte & Jenny had built almost a two-leg gap, they were unable to help their team-mates into a winning combination. A 3,5,6 defeat to Nottingham and a 3,4,5 defeat to Loughborough firsts followed, and the team could not pick themselves up for a crucial race against UEA, losing in a heart-wrenchingly close 1,4,6 combination, with Ellen Morley and Jamie Webb nonetheless showing impressive boatspeed to finish in the 1 against a team which has been in the top 8 nationally. Yet automatic qualification was now out of the question, and it looked doubtful that Yellow could even make it to the play-offs. Races against the Warwick firsts and Nottingham seconds would be decisive, and Yellow got the job done in the first of these with a 1,4,5 against Warwick. Another narrow defeat, this time 2,4,5 against Nottingham was rectified by a 1,2,3 against Aberystwyth, to take the final play-off spot.